New Product Of The Spiral Tube From Shinestar Group, More And More New Products From Shinestar Group
Time : 2021-09-17
Hits : 31
In March, In SHINESTAR's steel tube factory, the trucks loaded our new product of the SPIRAL TUBE to project site. This is our new product with 22 meter long SPIRAL TUBE. From this new SPIRAL tube, it makes SHINESTAR is the only one manufacturer with capable of producing 30-meter long SPIRAT tube in Central and South of China.
In the process of new product development, SHINESTAR adopts the most advanced production technology, uses the new MODEL welding machine which is the advanced equipment imported from USA. And we engaged experienced technical to fundamentally guarantee the new product quality.
With strictly testing with ultrasonic detection and X-ray detection, all new SPIRAL tubes are comply with standard of GB/T 9711-2011 and API 5L. SHINESTAR has achieved a technological leap on production technology and production quality from this NEW SPIRAL tubes.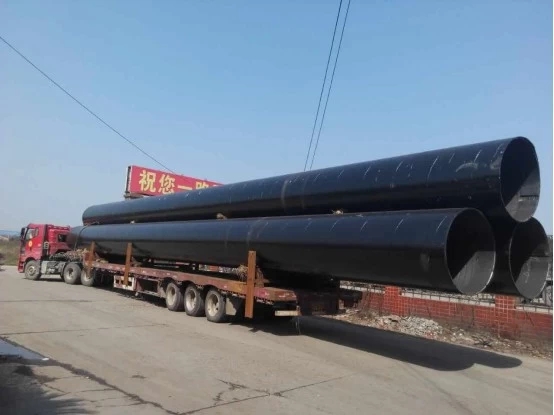 From steel market, The long size of SPIRAT tubes are widely used in pile foundations, wharfs, infrastructure construction, road engineering and other projects.
SHINESTAR has advantages of large production capacity, fast delivery, low transportation costs....., More and more customers are confident with SHINESTAR, and choose SHINESTAR for VIP supplier and partner.
In the next 10 years, Our new SPIRAT tube will become a major and important product for Infrastructure projects in China,
With our own factory, SHINESTAR is not only pay attention to product sales and service, but also pay attention to production development in the past 23 years.
We have 5 main production subsidiaries in Changsha, Xiangyin, Nanchang, Tangshan and Tianjin, with large production capacity, good product quality and fast delivery for Domestic and International demand.
With the production development in the past 23 years, our products are exported more than 100 countries in China, Asia, Europe, Africa, South America and Other International Markets.
Our company and products have been widely recognized and praised by customers, becoming a leading and profressinal enterprise in the steel industry.
In the future, SHINESTAR will do more in R&D development to produce SPIRAT tube with diameter to 2520mm, thickness to 20mm and length to 30 meter.
At the same time, we will continue to increase investment, introduce more advanced technology and production equipment, to produce more and more, better and better high-quality products.
We will build our own production park in the next 5 years, to satisfy with our valued customers and better adapt the development of the globalization strategy.